Product Description
I. DC Controller Overview:
1. PWM pulse width modulation
2. Speed regulation ratio: 1:60
3. Speed regulation mode: Potentiometer (10KΩ/2W), analog signal 0-5V, PWM
4. Input impedance: ≥10KΩ
5. Working voltage range: ±25% of nominal voltage
6. Soft start time: 1-5 S
7. Ambient temperature: -10℃~+60℃
8. Ambient humidity: relative humidity ≤80RH.(non condensing)
9. Current restriction protection
10. Remote start-stop can be realized
11. Applied for permanent magnet, separate excitation and series-excited motor
12. Thermal protection for controller cutting off output in case of overheating for controller to effectively protect controller and traveling crane safety.
13. Able to directly judge source of fault through luminous diode under working condition.
14. Stepless speed regulating and anti-phase braking control
15. Built-in precharging resistor and polarity protection diode provide convenience for installation and use
16. Under voltage and over voltage protection effectively protects storage battery and all components of controller assembly
17. 90 seconds no acceleration signal input can automatically cut off the power of contactor magnet coil to save the energy of storage battery.

II. HIGH CURRENT PWM DC CONTROLLER SPECIFICATION
| | |
| --- | --- |
| Input voltage | DC 48V (if you need 24V 36V 60V, kindly advise) |
| Output voltage | DC 0-48V (you can adjust the output voltage) |
| Max current | 500A |
| Operating mode | Speed mode |
| Control ways | Potentiometer, 0-5V, PWM |
| Protection | Abnormalitise like over current, overheating, over voltage, less voltage and short circuit will start the protection function. |
| Size | |
| Weight | 11kg |
| Matched motor | brushed dc motor, separated excitation motor, series excitation motor |
III. Forklift Motor Speed Controller General connect drawing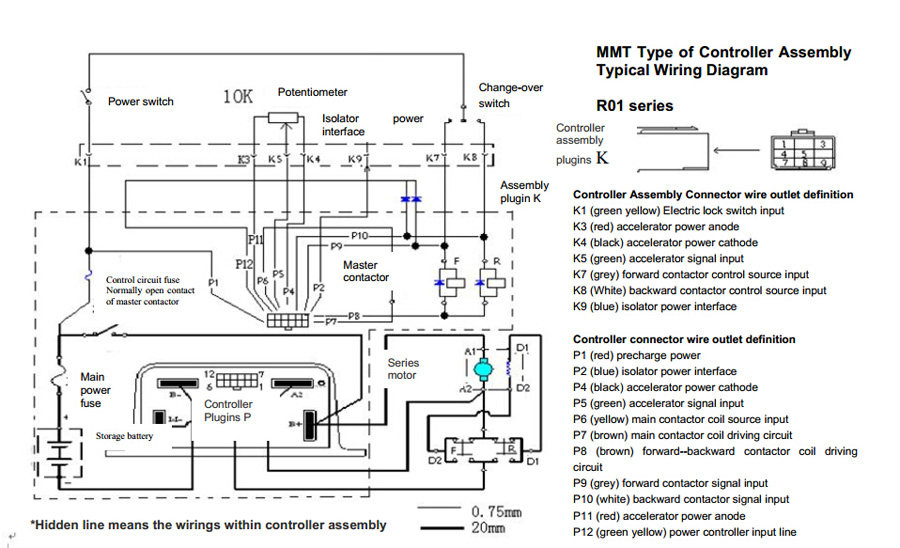 If you need more information, please download the brushed dc controller user manual, hope that will help you.