Product Description
I. Overview:
This brushed motor speed controller is a low voltage DC four-quadrant regeneration pulse width controller adopts special single-chip intelligent control system and has rapid response speed, steady operation, reliable work status and multiple protection functions.

Ⅱ.Product Features
1. PULSE WIDTH MODULATION
Motor runs quieter, with greater efficiency and less maintenance, longer life.
2. FOUR QUADRANT REGENERATIVE OPERATION
3. REGENERATIVE BRAKING
No contactors required. No electromechanical components to overheat or wear out.
4. ENABLE / BRAKE / DIRECTION TERMINALS
Choose a function by simply opening or closing a dry contact or through an open collector transistor.
5. STATUS LEDs
Power and Fault LEDs provide a visual status of the drive.
6. Forward and reverse can be set separately
7. Output current can be set
8. Braking current can be set
9. Torque compensation function
10. Standard analog control mode:
Analog:0-5V or potentiometer
11. Over voltage & less voltage protection
12. Over temperature protection.

Ⅲ. Main Parameters
1. Input voltage: DC 24V, if you need 12v 36v 48v, kindly contact us.
2. Max current: 100A
3. Soft start/stop time: 0.2—20S
4. Analog control signal: 0—5V (wired to earth ground)
5. Signal input impedance ≥200K
6. Speed accuracy: 1%
7. Speed adjustable range : 100:1
8. Speed Ratio: 1:80
9. Ambient temperature: -10℃- +60℃
10. Relative Humidity: Below dew point
11. Weight:1.5kg
12. Dimension:212*115*63(mm)

IV. General connect drawing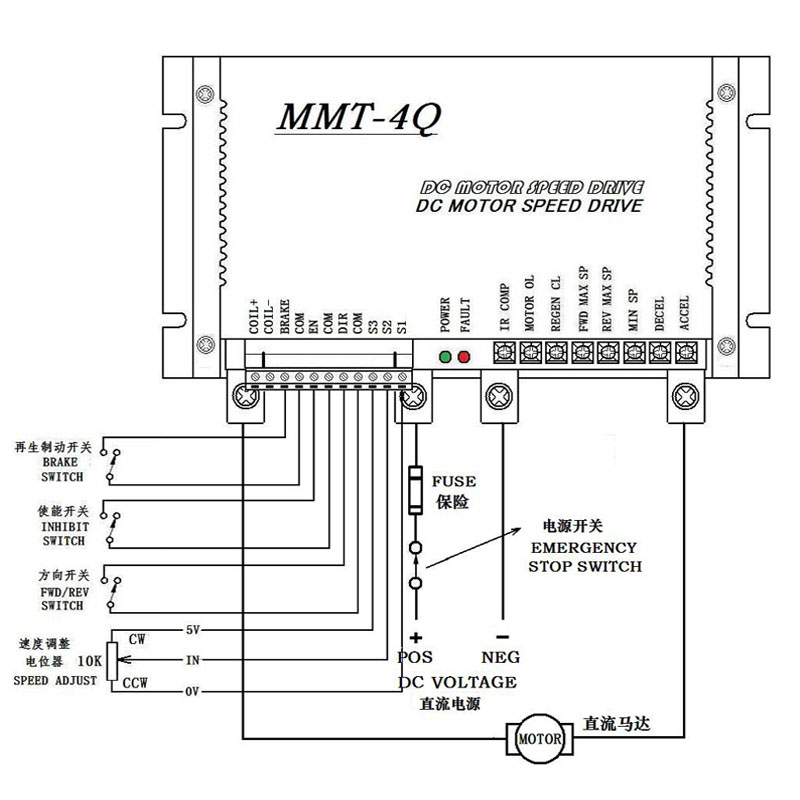 If you need more information, please download the four quadrant dc controller user manual, hope that will help you.