Product Description
I. Overview:
This brushed motor speed controller is a low voltage DC four-quadrant regeneration pulse width controller adopts special single-chip intelligent control system and has rapid response speed, steady operation, reliable work status and multiple protection functions.This motor controller is low voltage,four-quadrant regeneration and pulse-width modulation speed controlling system. The MCU (Microcontroller Unit) intelligent control makes quick response speed,smooth running,reliable operation and complete proportions,etc.

Ⅱ.Product Features
1. PWM( pulse width modulation)
The PWM makes motor low noise, high efficiency and little maintenance.Service life of DC motor can be furtherly increased.
2. Four-quadrant regeneration in operating mode.
3. Regenerative braking function
External directional(or reversing)contactor is not required and components or parts of motor can be protected from superheated or burnout.
4. Enable/Brake/Reversing terminal
One of above functions can be achieved with help of passive switching value or open (or broken)circuit of transistor collector.
5. Status Light
Power light and various fault warning lights make the status of motor controller visible.
6. Speed value of Forward or Reverse can be set respectively.
7. Value of output current can be set.
8. Value of brake current can be set.
9. Torque compensation
10. Double closed loop PI regulation(Voltage and current)
11. Standard analog signal
Analog quantity (0-5V) or potentiometer are suitable for controlling.
12. Overvoltage or undervoltage protection
13. Overheating protection
When temperature is overtop,motor controller will reduce output current to prevent from superheated with help of decision circuit.if the temperature is still overtop,the controller will stop output and protect motor and motor controller.

Ⅲ. Main Parameters
1. PWM( pulse width modulation)
2. Speed ratio:1:80
3. Speed control mode: potentiometer(10KΩ/2W)
4. Input impedance:≥50K
5. Speed accuracy: 1 %
6. Soft start time. Soft stop : 0.2-20 seconds
7. Ambient temperature: --10℃~+60℃
8. Ambient humidity: Relative humidity≤80RH (non condensing)
9. Instantaneous short circuit protection (50us)
10.Outline dimension: 134*135*70mm
11.Weight: 0.9Kg
13. Adopted SMT technology makes motor controller small size.
14.Current setting and limiting protection
15. ACCEL/DECEL
16.Quick stopping
17.Huge torque at low speed start up.
18.This motor controller is suitable for lanthanide (rare earth)motor, permanent magnet motor and separately excited motor.

IV. General connect drawing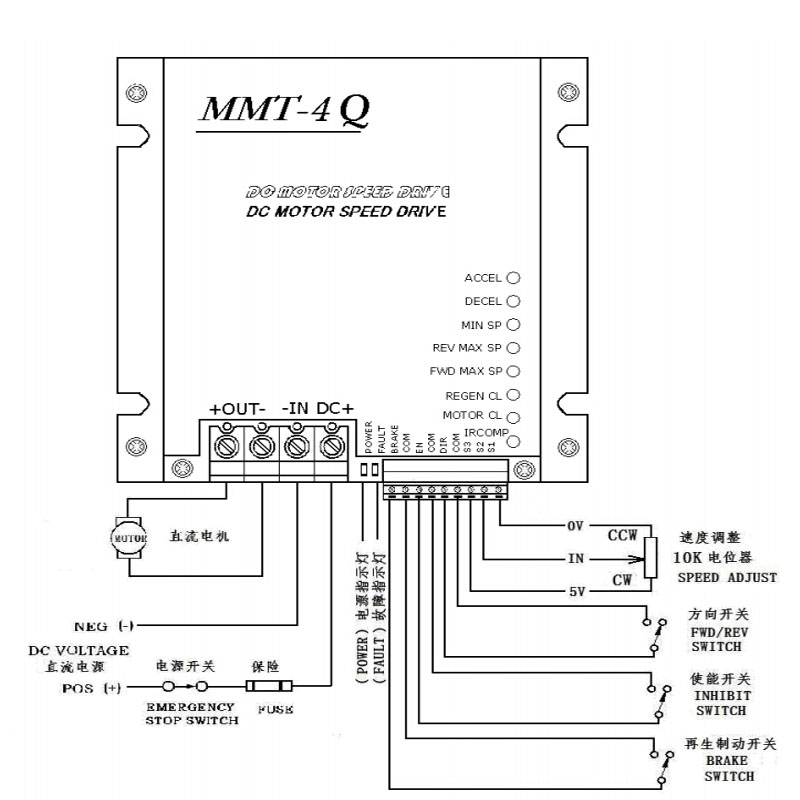 If you need more information, please download the four quadrant dc controller user manual, hope that will help you.