Product Description
10A DC CONTROLLER OVERVIEW
MMT-220DR serial DC motor drive adopts SCR chopper, which has unique trigger mode, thus making it more accurate and reliable. The drive is the update speed regulation product which develops and produces in combination with the international standard requirements and absorbs advanced technology experience. The drive has high performance-cost ratio because of its excellent performance and reliable quality. (It can reach high speed ratio even when at non-speed feedback) It is above average in DC motor drive field. Currently, the serial products have been exported to many countries and widely used in fields of domestic plastics machinery, food machinery, cable equipment, mechanical processing, papermaking, printing, experimental equipment, laboratory equipment, mixing equipment and so on.
DC CONTROLLER PERFORMANCE

1. SMT technology, small size
2. Good following features, rapid respond speed
3. Wide speed ratio, strong mechanical features
4. Applicable to permanent magnet ,separate excitation type and DC torque motor
5. Double closed-loop PI regulation (Voltage, current)
6. Current setting and current-limiting protection (continuous operation setting current)
7. Large low speed output moment
8. Over-current protection function
9. Quick stop function
10. Arbitrary setting of upper and lower speed
11. Soft start, soft stop setting function
12. Selection of speed mode, torque mode
13. Normally open, close selection of enable signal
14. Selection of input, output voltage switch
15. Driver speed governing controlled by standard signal input 0-5V or 10K potentiometer
BRUSHED DC CONTROLLER SPECIFICATION
| | |
| --- | --- |
| Input voltage | AC 220V |
| Output voltage | DC 0-90V, 0-110V, 0-180V, 0-220V (you can adjust the output voltage) |
| Max current | 10A |
| Operating mode | Speed mode, Torque mode |
| Control ways | Potentiometer, anglog signal 0-5V (if you need 0-10V,kindly advise) |
| Protection | Abnormalitise like over current, overheating, over voltage, less voltage and short circuit will start the protection function. |
| Size | 150*115*60mm |
| Weight | 1500g |
| Matched motor | PMDC motor, brushed dc motor, separately excited motor |
General connect drawing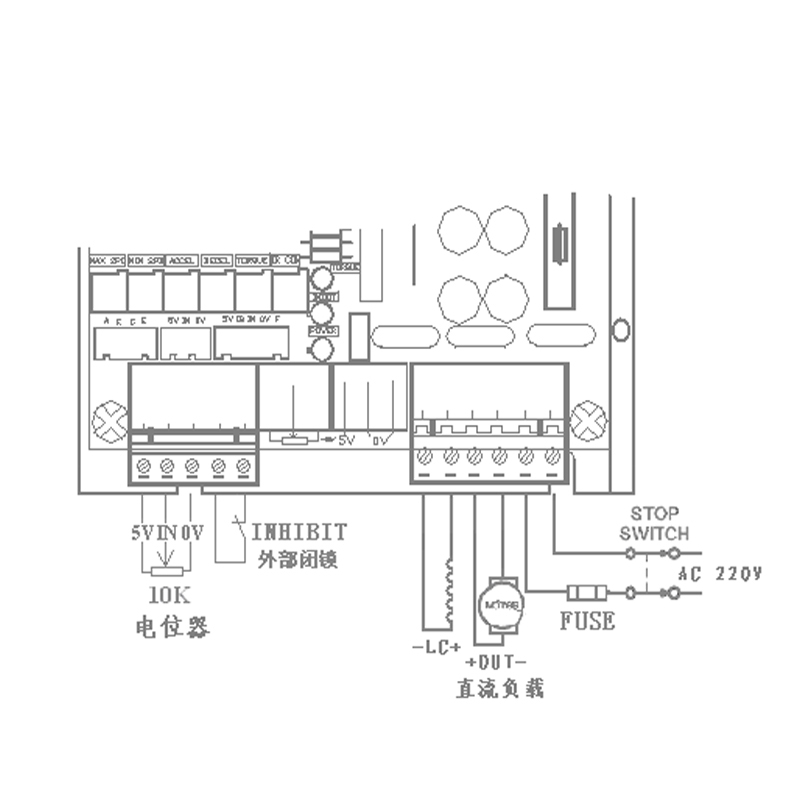 If you need more information, please down load the dc controller user manual.