Product Description
I. Overview:
This controller has three manners of working: speed control, current control and open-loop control.
Control functions of braking, direction, enable, first-magnification, dual speed setting, etc. can be realized.
Maximum current limit can be adjusted.
0-5V signal control way for external potentiometer, interior potentiometer and external analog quantity and soft start function.
Time setting function for soft start.
Overcurrent protection function
Overheating protection function
When the temperature is too high, the speed controller will stop outputting and provide better safety for the moter and the speed controller.
High-speed control that full speed of one pole pair motor can reach 120000RPM

II: Performance Index:
1.Power supply voltage VCC: 10-50VDC (error <5% is better).
2.Maximum output voltage: Vout=0.95 X VCC.
3.Maximum output current: 15A.
4.Switching frequency: 39KHz.
5.Maximum speed (one pole pair motor): 120, 000rpm.
6.Hall power supply voltage range: 7-12VDC maximum output current is 30mA.
7.Locked-rotor protection time: 1.5 seconds.
8.Ambient temperature:
Working: -10-- +45 ℃ Storage: -20-- +60℃
Ambient humidity range: 20-80%
9.Analog quantity output: 0-- +5VDC.
10.Soft start time: 20ms-10S.
11.Regulation voltage of external potentiometer : 0--+5V potentiometer (10KΩ/2W).
12.12. Overall dimension(including radiator): 127*48*92mm.
13.Weight: approximate 600g.
General connect drawing
.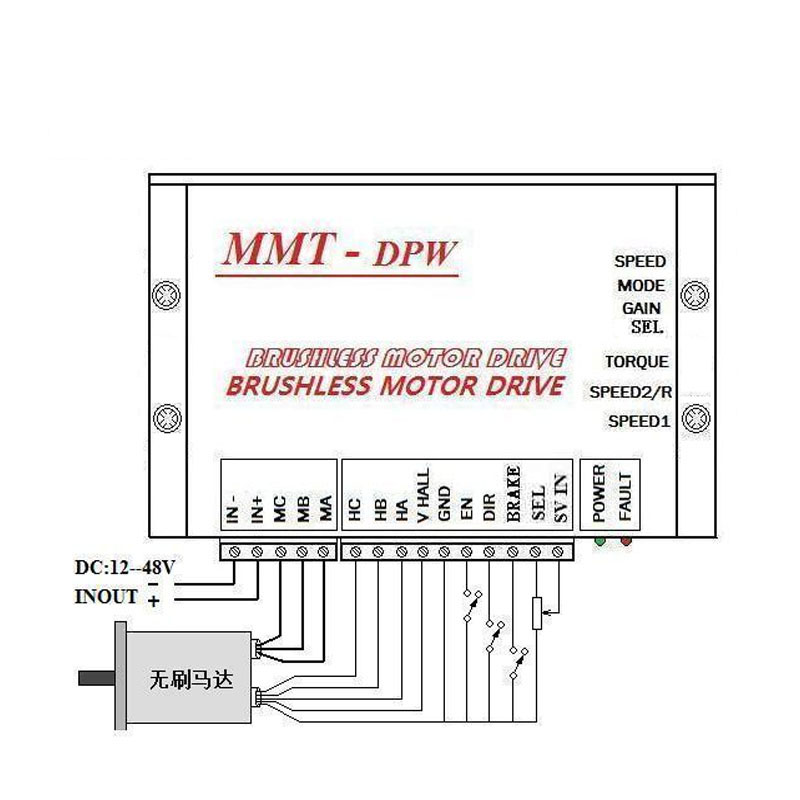 If you need more information, please download the brushless dc motor controller user manual, hope that will help you.