Product Description
This dual channel servo driver is suitable for driving permanent magnet synchronous servo motor and low voltage AC servo motor. this dual channel servo driver can control the motor speed, motor position and motor torque. It support many control ways, RS232 communicate control, CAN communicate protocol control, RC (Remote control), PWM, 0-2.5V-5V, 0-5V analog signal control.
1. Technical Index
Applicable motor: 48V 3KW, 48V 4KW, bldc motor, pmsm motor, servo motor
Current: continuous current 80A per channel, maximum peak current 150A (factory setting), the peak current can reach 250A.
Voltage: 48VDC, the standard voltage is 48V, if you need 24V, please advise in advance.
Working mode: Speed mode, torque mode (customized), position mode(customized)
Feedback components: Incremental encoder (General product), Hall sensor (Custom-made, and we should debug the controller with your motor together.)
Control port: RS232, CAN 2.0, RC (Radio, model signal, remote control), 0-5V analog voltage, single-ended analog voltage (potentiometer).
External start and stop control.
Brake energy recovery function.
Fault LED indication.
It can be controlled by CAN 2.0, RS232 for parameter reading and monitoring.
Motor speed control and data reading through RS232.
Drive internal temperature monitoring.
Overcurrent and overload delay protection. Overvoltage and undervoltage protection.
Temperature protection.
Blocking and flying protection.
Motor short circuit protection.
2. Technical parameter
Parameter
Label
Parameter value

Unit
Voltage
U
30-60
VDC
Max continuous current
Ic
80
A
Max peak current
Imax
250A(factory setting is 150A, 3s overcurrent protection)
A
PWM switching frequency

f

pwm
12
KHz
Output encoder power supply
+5Vout
5
VDC
Icc
100
mA
Encoder input
Signal property
5V differential drive


fmax
200
KHz
Analog signal voltage


0-5
V
RC signal control
cycle 1.5ms
motor stop


1.5ms-2ms
motor forward


1.5ms-1ms
motor reverse


Communication port
RS232
115200
bps
CAN(self-defined)
250
Kbps
Undervoltage protection
Vu

30V (48V version)

18V (24V version)

V
Overvoltage protection
Vo

60V (48V version)

30V (24V version)

V
Temperature rise
T

75A 30min≤35K


Operating temperature
Industrial grade
-25 --- +55
℃
Military grade
-45 --- +55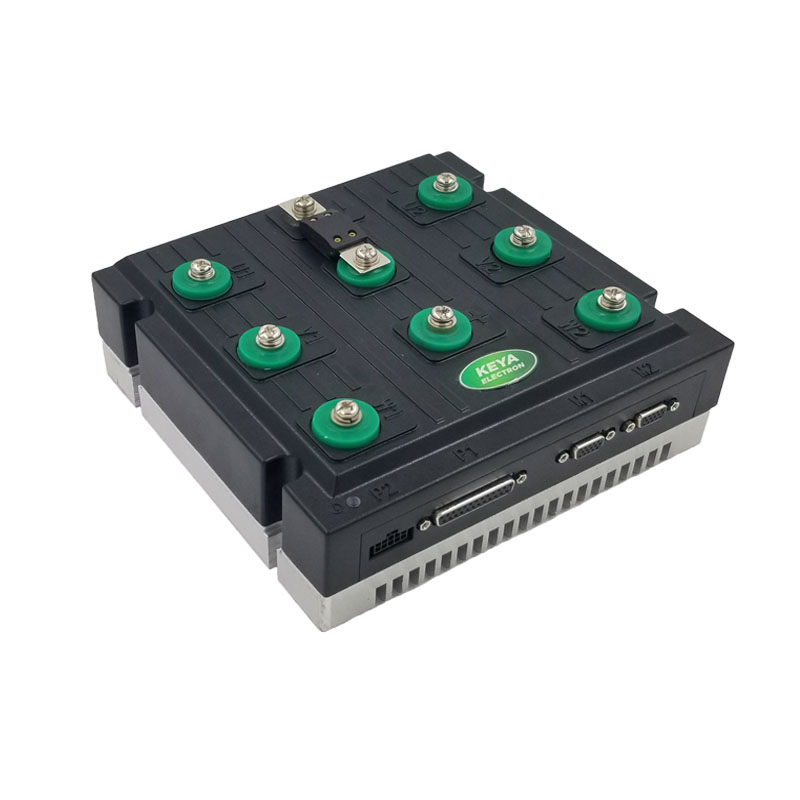 The dual channel Connect terminal definition
| | |
| --- | --- |
| B+ | Power supply + |
| B- | Power supply - |
| U1 | BLDC Motor 1 U |
| V1 | BLDC Motor 1 V |
| W1 | BLDC Motor 1 W |
| U2 | BLDC Motor 2 U |
| V2 | BLDC Motor 2 V |
| W2 | BLDC Motor 2 W |
Hall and Encoder definition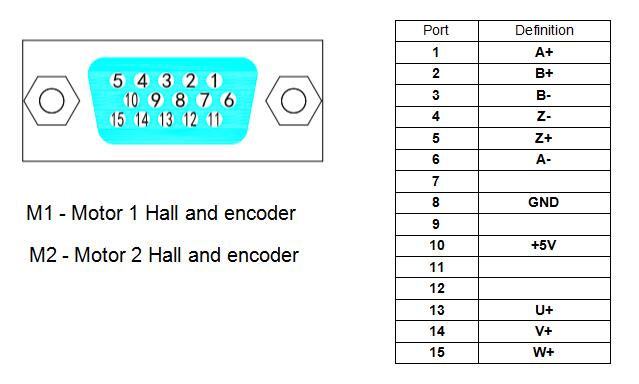 Control port definition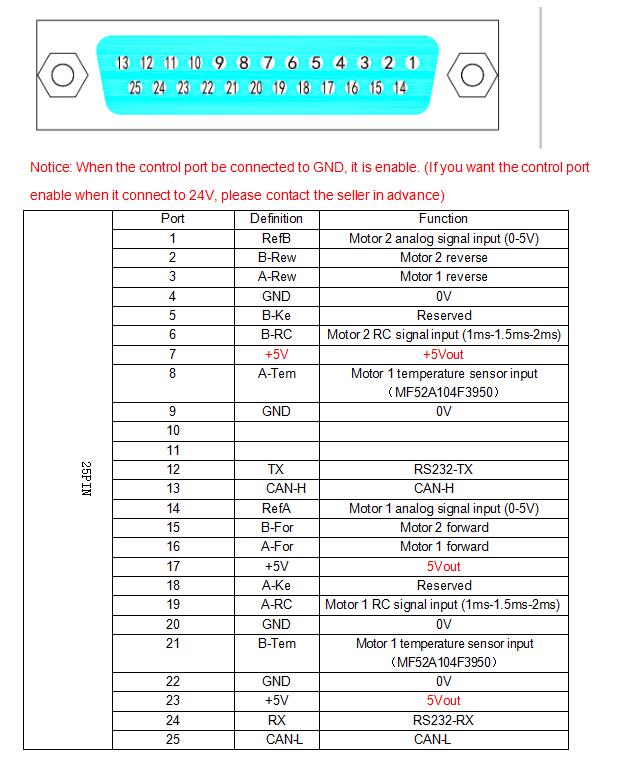 This driver be widly used in heavy agv, heavy automatic guided vehicle, tracked vehicle chassis, industrial robot chassis, robotic chassis, industrial robot platform, tank robot chassis etc.