Product Description
I. Overview:
Jinan Keya MMT Series servo control system, PWM DC speed-regulating system are the high-precision electronic speed-adjusting devices with the latest international digital control speed regulation technology and special parts. The device adopts international standard technical specifications with the technical indicators which meet international requirements of similar products. The device has a simple structure, small size, light weight, and other advantages, which can be used for SZ series, ZYT series, Z2 Series with DC motor stepless speed regulation ranging from tens of Watts to 5KW. The product has multiple protection, security, stability and reliability. It can be fully compatible with similar international products, and has international quality and home-made prices.

II. Scope of application:
MMT series of DC speed governor are widely used in the machine tools, paper printing, textile printing and dyeing, fiber-optic cable equipment, packaging machinery, electrotechnical machinery, food processing machinery, rubber machinery, biological equipment, printed circuit board equipment, experimental equipment, welding cutting, light industry machinery, logistics transportation equipment, locomotives and rolling stock, medical equipment, communication equipment, and other industries.

III. Product performance
1. The mechanical characteristics of hardness, static error rate of 1%.
2. Wide speed-regulating range (0 - max).
3. Rapid dynamic response process.
4. Automatic smooth transition process during acceleration or deceleration.
5. Better excavator characteristics, can limit overload current to set value current.
6. High reliability and compact structure, high performance-price ratio.

IV.Characteristics of products
1. Speed regulation ratio 1:100 (Open loop)
2. Large moment at low speed operation
3. PWM pulse width modulation technology, low noise
4. Double closed loop PI regulation
5. Current settings, current limiting protection, over-current warning.
6. Setting function of soft starting and soft stop.
7. With fast response and good following.
8. Function of enabling block control.
9. Short current function.
PWM DC CONTROLLER SPECIFICATION
| | |
| --- | --- |
| Input voltage | AC 220V |
| Output voltage | DC 0-90V, 0-110V, 0-180V, 0-220V (you can adjust the output voltage) |
| Max current | 13A |
| Operating mode | Speed mode |
| Control ways | Potentiometer, if you need 0-5V / 0-10V analog signal control, please advise. |
| Protection | Abnormalitise like over current, overheating, over voltage, less voltage and short circuit will start the protection function. |
| Size | 150*115*80mm |
| Weight | 1000g |
| Matched motor | PMDC motor, brushed dc motor, excited motor |
General connect drawing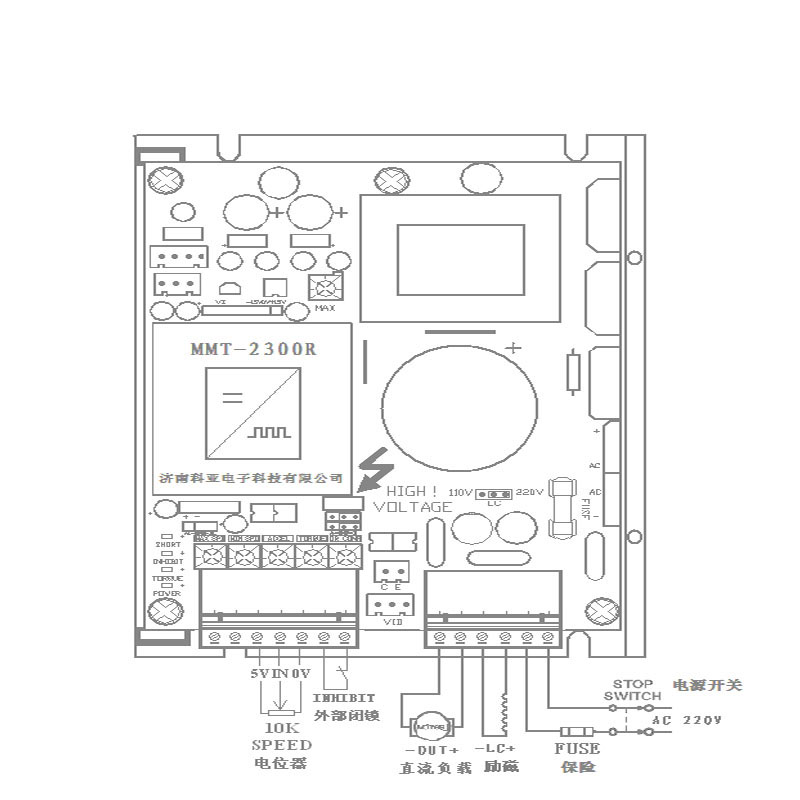 If you need more information, please download the brushed dc controller user manual, hope that will help you.