Product Description
I. Overview:
This brushed motor speed controller is a low voltage DC four-quadrant regeneration pulse width controller adopts special single-chip intelligent control system and has rapid response speed, steady operation, reliable work status and multiple protection functions.This series of speed controller is a low-voltage DC four-quadrant regeneration pulse width speed governor. It adopts special single-chip intelligent control mechanism and it responds quickly, operates steady, works reliable, and has complete defensive functions, etc..

Ⅱ.Product Features
1. SMT technology, small size
2. Pulse width modulation
Low noise during operation, high efficiency, and low maintenance cost which better enhance the service life of DC motor.
3. Four-quadrant regenerative operating mode
4. Regenerative braking function
It doesn't need external reversing contactor and will not result in electric motor parts or other components overheating or burning down.
4. Enable/ reversing terminal
To realize certain functions by using simple passive switching value or transistor collector open circuit.
5. Status indicator light
Power supply indicator and over-current alarm indicator can provide the visible status of speed controller.
6. Output current setting function (amplitude limiting)
7. Torque compensate function
8. Double closed-loop PI regulation(current, voltage)
9. Standard analog quantity signal control
Analog quantity: 0-10V or controlled by potentiometer
10. A broader scope of input voltage: 20-55V
Ⅲ. Main Parameters
1. PWM pulse width modulation
2. Speed ratio: 1:100
3. Control potentiometer: (1K ……50K )/2W
4. Input voltage: 20-55V VDC
5. Output current: 0-10A (amplitude limiting)
6. Input impedance: ≥50KΩ
7. Revolving speed (standard precision %): 1 %
8. Starting/braking time: 0.2S - 20 S
9. Environment temperature: -10℃~+50℃
10. Environment humidity: ≤80RH(no moisture condensation)(relative humidity)
11. Insulation and voltage resistance: 1100V DC 1 minute
12. Insulation resistance: > 20 MΩ
13. Leakage current: ≤ 0.9 mA
14. Weight 0.10Kg
15. It is applicable for tombarthite, permanent magnet and separately excited motor

IV. General connect drawing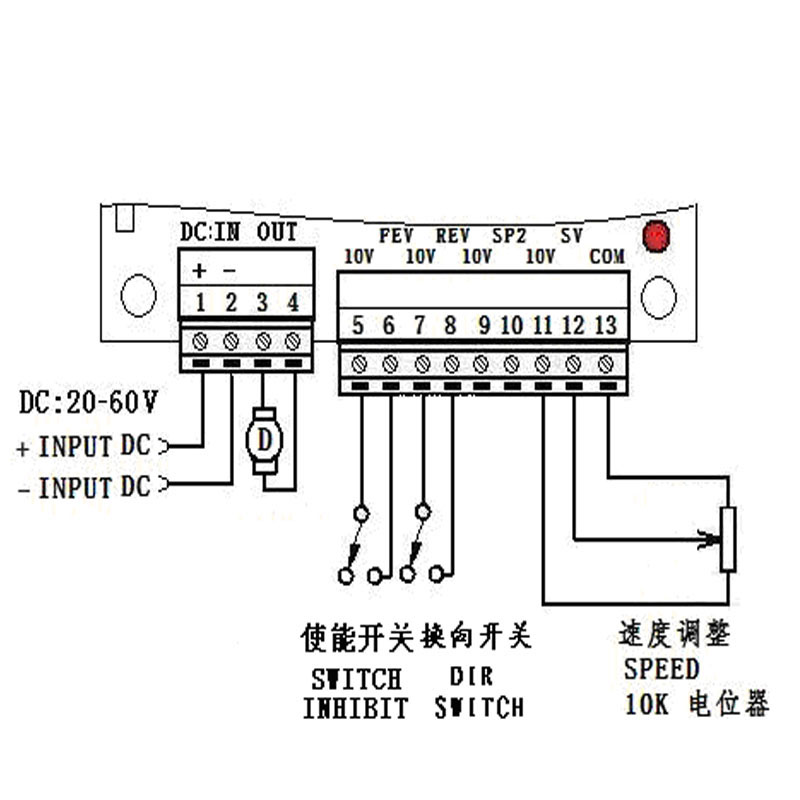 If you need more information, please download the 24V brushed dc motor controller user manual, hope that will help you.